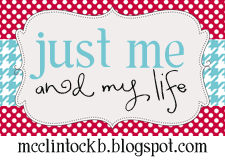 Today's Friday Fives is going to be my 5 all-time favorite songs! Well, actually it will be 5 songs I have loved in my life. There are just too many to pick a top 5.

Now, over the years I have listened to a wide variety of music. But one thing you will never see or hear from me is Hip-Hop or RAP!! I make no apologies when I say that I cannot stand the stuff! It gives me a really big headache, even when it is coming from the car behind me! Other than that I like a little bit of everything!

1

.

At Last - Etta James


Doesn't everyone love this song? It's just a classic! My husband and I had our first dance to this, so how could I leave it out? Cheesy, I know.
Regardless, it's one that I could hear repeatedly and not get tired of.



2. I Pray
for You - Jaron and the Long Road to Love


This is a new song that I recently heard. I don't even remember where I first heard it, but it is hilarious! It sounds like it would be something very meaningful, right? WRONG! Watch it below and see what you think. It's very clever!


3.
Oh Holy Night - Martina McBride
Yes, I realize it is summer and this is a Christmas song. This version of this song can be found on the "Mother and Child" cd. It is mostly A Capella, which I believe few artists can pull off. Most of the time, when you hear a song on the radio it has been doctored in the studio. You know how you go to a concert sometimes and come home disappointed because the artist didn't sound as good in person? Well, I believe that Martina McBride is one of those exceptions. I have heard her live and her voice is simply astounding! Since this song is mostly A Cappella there are very few instruments to alter the sound of her voice. It's one of those songs that will send a chill up your spine.
Sorry for the cheesy Christmas tree. This was the ONLY link to this song I could find.... regardless, take a listen and you will see why I love to hear this no matter what time of year it is!
4. The Devil went down to Georgia
I love this song! It just puts me in a good mood whenever I hear it.

I don't know what it is, whether it's the classic good winning over evil or the amazing way Charlie Daniels can play the fiddle like no one else.

5. Anything on U2 - The Joshua Tree album
Over the years
I
have liked and disliked some of their other stuff. But this album was by far their best! It rem
ind
s
me of my teenage years. I always get excited to hear o
ne
of the songs from this album played on the radio (now that is usually restricted to Jack Fm with all the other "oldies" from my day....)